Private Homa Therapy and Yoga Holiday in Croatia
"Connect with yourself and be happy!"
Luxury Meditation and Yoga Holiday Croatia
Maya Yoga House is offering you a personalized and luxurious one-on-one or two-on-one Homa therapy, Chrystalotherapy, yoga, and wellness retreat in Tuhelj, Croatia. Receive service at its best where everything is cared for from the moment you arrive. The whole Yoga House Villa (200m2) will be at your disposal. All you have to do is forget about everything, completely relax, and learn different techniques on how to be calm and happy all the time, no matter what is happening around you.
Highlights
Daily yoga classes
Daily healing fire rituals session
Daily meditation sessions
Daily Chrystalotherapy
Daily yoga Nidra
Daily free access to the biggest wellness and spa center in Croatia
Gift for you to take home: Agnihotra healing ash (make your own medicine)
The whole Yoga House Villa (200m2) will be at your disposal
Unlimited consumption of organic drinks and food
Daily home cooked organic specialities
3 nights accommodation
2 massage sessions
Skill level
Beginner
Intermediate
Advanced
---
4 days with instruction in English
The organizer also speaks: Croatian, German
Group size: Minimum of 4 participants
Accommodation
Facilities
Barbeque facilities
Dining area
Garden
Kitchen
Terrace
Yoga studio
Laundry
You will be accommodated at Maya Yoga House's small, beautiful villa that has three rooms. In this personalized retreat, you have the whole villa only for your use. The villa is located in the heart of the famous Croatian hills of Zagorje, and 45 kilometers northwest from Zagreb, the capital city of Croatia. It is situated on a small hill at an altitude of 160 meters, surrounded by a garden full of organic fruit and vegetables.
It offers glorious views of the famous Zagorje hills, forests, wild flowers, and green valleys. Surrounded by sights and sounds of nature, such as birds chirping and singing all around, you can be sure to feel relaxed and invigorated during your stay.
Program
AGNIHOTRA ASH MEDICINE
The ash from Agnihotra is highly medicinal. It is full of Prana and all micronutrients in perfect balance for health. Measured by NASA labs, 92 elements have been identified in the ash, including all trace elements in perfect balance for health. There are 100's of documented reports from medical doctors in Sth. America about the healing of all sorts of problems including the so-called incurable diseases. It can be used as medicine in two ways, drinking it in water or using it as an ointment. Agnihotra ash can also be used in farming and horticulture. The general health of plants and trees is enormously improved, the plant's yield multiplies in terms of fruits and flowers, and there is a tremendous improvement in soil conditions.
Homa therapy
Homa is a Sanskrit word used as a synonym for Yajnya. Yajnya is the technical term from the Vedic science of bio-energy for the process of removing toxic conditions of the atmosphere through the agency of fire. You heal the atmosphere and the healed atmosphere heals you. This is the central idea in Homa therapy. Homa therapy can be used in several areas such as psychotherapy, agriculture, the environment, and medicine.
In psychotherapy, Homa therapy aids in removing stress and tension from the mind, clearing area of negative thought patterns that impinge on the mind, establishing a positive approach characterized by love, reducing anger and self-destructive habits or patterns, and bringing motivation to get rid of substance abuse such as drug addiction and alcoholism.
In agriculture, Homa therapy helps in growing vegetables, fruits, grains, etc. without chemical fertilizers, insecticides, pesticides, and herbicides by strengthening the subtle energy structure of plants, and affecting hormones in the reproductive organs of pests. This results in the possibility of growing large quantities of food in a small area.
Homa therapy helps the environment through purification of the air people breathe by removing toxins in the atmosphere and helping to neutralize harmful radiation. It can also purify contaminated water. Homa therapy also aids in cloud seeding to precipitate nutritional rain, and Yajnya helps in patching up the ozone filter that has been damaged by pollution.
Homa therapy also has an impact on human, animal, and plant medicine. Homa atmosphere and Agnihotra ash aid in the prevention and cure of diseases as stated in Ayurveda. Homa therapy also helps the human body in neutralizing the effects caused by ingesting radioactive food.
Guided meditations
Meditation is an approach that anyone can use to help in coping with medical problems, stress, and anxiety by way of thought, contemplation, and reflection. During this retreat, you will be voice-guided step by step, either live or through a recording, all throughout the meditative experience. The aim is to quiet the mind and produce calmness and relaxation.
Yoga
Yoga is for all. You don't need any yoga experience and you don't have to be in shape or flexible to take your first class. There are many styles of yoga and there isn't a right or wrong way to practice it. Different styles appeal to different people.
Hatha yoga
This is the most widely practiced form of yoga in the world. Hatha yoga uses postures (asanas) and conscious breathing (pranayama) in combination with mental focus to develop awareness, strength, flexibility, and relaxation. This is a good place to learn beginner's poses and relaxation techniques and become comfortable with yoga practice.
Yoga Nidra
Also known as yogic sleep, this is a guided form of yoga that focuses on the deepest state of meditation. It is an ancient practice that encourages a state of awareness that helps you get in contact with your inner self. New and experienced yoga students can benefit from this practice.
Chrystalotherapy
Crystal healing is a holistic, non-invasive, vibrational energy-based system of healing. It treats the whole person and their integrated energy system. It is therapeutic and deeply relaxing.Crystals absorb, focus, direct, detoxify, shift and diffuse energy as they interact with the electromagnetic forces and subtle vibrations within the subtle human or environmental energy field.
Sample schedule
08:00 Morning herbal tea and fruit
08:30 Yoga class (asanas, pranayama, meditation)
10:30 Yoga Nidra
11:30 Brunch
12:30 Daily visit to the biggest Croatian wellness, sport, and spa center
18:00 Massage
19:00 Healing Homa therapy fire ritual / Chrystalotherapy
20:30 Organic dinner
Maya Yoga House wants you to feel completely relaxed, rejuvenated, happy, and peaceful so please feel free to adjust and organize your daily schedule however it suits you. If you wish to follow the daily itinerary, you may do so. Although, if you wish to do your own activities or just relax in the beautiful nature and surroundings, you can also do that.
Instructors

Maja Tauzer
Maja has been practicing yoga for 20 years. Bewitched by the practice, she made her first trip to India in 2011, where she felt immediately at home and happy. Every year, she spends six months in India, luckily finding amazing teachers to learn different yoga styles from. She is grateful to all o…Read more
Location
This retreat will take place in the heart of Zagorje's famous hills in Tuhelj, Croatia. People refer to Zagorje as a fairy tale at hand, green world, or the romantic heart of Croatia. It is a center of health tourism in the country, with preserved nature rich in birds, wild animals, and clean air.
There are numerous hot water springs and spa resorts all around. It is also extraordinarily rich in history, cultural heritage, castles, museums, and prehistorical findings. Locally available organic food is used in the traditional cuisine and many rural households offer fine local food and wine.
Nearby places
Kumrovec, 6 kilometers
Maribor, Slovenia, 70 kilometers
Terme Olimia, Slovenia, 30 kilometers
Terme Tuhelj Hotel Well, 2 kilometers
Trakošćan Castle, 30 kilometers
Veliki Tabor Castle, 10 kilometers
Vuglec Breg, 8 kilometers
Zagreb, 45 kilometers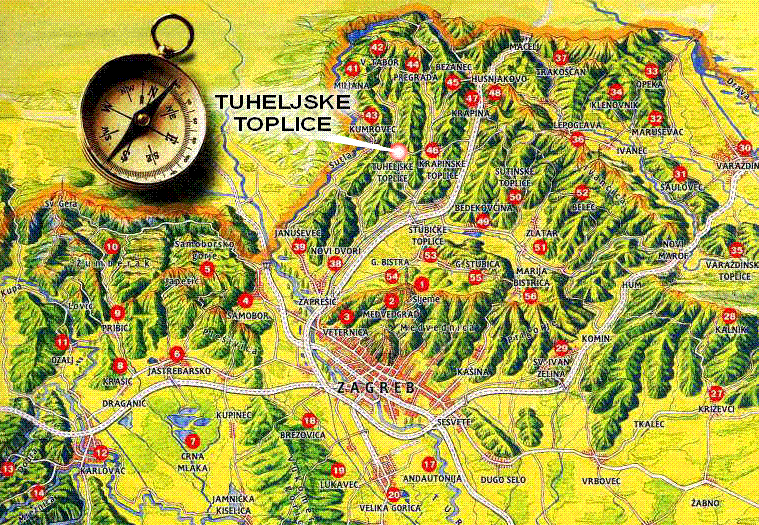 Food
Maya Yoga House aims to provide you with fresh organic fruit and vegetables grown in their garden. You are very welcomed to try numerous kinds of home made jams, bread, juices, cakes. If you like something special just go to the garden, pick it up, prepare it for yourself in a big kitchen, or let us do it for you. Maya Yoga House is offering you unlimited consumption of organic drinks and food and a free use of our big kitchen. You are welcome to try our daily home cooked organic specialities.
The following meals are included:
Breakfast
Brunch
Lunch
Dinner
Snacks
The following dietary requirement(s) are served and/or catered for:
If you have special dietary requirements it's a good idea to communicate it to the organiser when making a reservation
Things to do (optional)
Birdwatching
Cycling, swimming, or horseback riding
Exploring nearby places and tourist attractions
Hiking or meditation walks
Vineyard tours and wine tasting
Visiting the wellness and spa facilities nearby
Spa treatments
You have two massage sessions included in this retreat. In addition, you have free daily access to the biggest wellness, spa, and sports center in Croatia and it includes free access to all indoor and outdoor pools, numerous different saunas and various sauna programs, and whirlpool use.
There is also a number of other wellness and spa resorts nearby for you to explore. You can book all kinds of beauty treatments, various health programs, and extra massage sessions at an additional cost.
OUTDOOR POOLS
Outdoor swimming pool complex includes a wave pool, children's pool with four water slides and water cannons, pool for the youngest with supervisors, toys and sprinklers for a playful first water experience, relaxation pool with geysers, water towers, and underwater massage.But that's not all. For even more water pleasures, the outdoor pool complex offers five slides and a 250m long lazy river with two lagoons and underwater massages. At the pool, refreshment is a must, and we take special care of you at our cocktail bar.
INDOOR POOLS
Indoor swimming pool system consists of a half-Olympic size swimming pool (25m), children's pool, therapeutic pool for light and sound therapies. Moreover, there are: Jacuzzi with massage and wellness pool with attractive water effects: 2 Jacuzzis, waterfalls, underwater massage beds, water and air massages, geysers.
This rich water offer will impress you.
SAUNA WORLD
It is the largest sauna centre in Croatia, whose experts have been literally developing a culture of sauna bathing in this part of Europe. Programmes include bio-ionising sauna bathing with crystals, chromo therapies and extreme sauna bathing in our four Finnish saunas. You can enjoy sauna bathing in the panoramic sauna, as well as sauna bathing in mud, salt and double steam saunas. Ice cave, Kneipp path, Jacuzzis, cold pool, Laconiuim, wellness bar, terrace for sun bathing and relaxation, hidden nudist terrace and many other small attentions that await you in our complete sauna bathing service…
What's included
2 deep tissue whole-body massage sessions
3 nights accommodation
Daily healing Homa therapy fire rituals
Chrystalotherapy
Unlimited consumption of organic food and drinks.
Daily home cooked organic specialities tasting
All meals
Gift for you to take home: Agnihotra healing ash (make your own medicine)
Daily free entrance to Croatian biggest Wellness, Spa and Sports center
Free use of kitchen
Airport transfers from and to the airport and yoga house
What's not included
Airfare costs
Any additional activities, services, or trips
Travel insurance
How to get there
Recommended Airports
ZAGREB – Franjo Tuđman Airport
43 km
---
Transfer not provided
Driving directions from Zagreb Airport (ZAG)
The fastest way to come from Zagreb to Tuhelj is to take the A2 highway Zagreb-Zabok heading north.
Drive approximately 27 kilometers and get off the highway through the Zabok exit.
When you reach Zabok, please get a hold of Maya Yoga House so that someone can guide you to the location.
Arrival by airplane
Please book your flight to arrive at Zagreb Airport (ZAG). Transfer from and to the airport is included. Maya Yoga House will pick you up from the airport.
Arrival by taxi
From Zagreb Airport (ZAG), you can take a taxi to reach the retreat location.
Cancellation Policy
A reservation requires a deposit of 30% of the total price.
The deposit is non-refundable, if the booking is cancelled.
The rest of the payment should be paid on arrival