8 Days Yoga and Mindfulness Retreat on the Luxurious Sailing Yacht in Croatia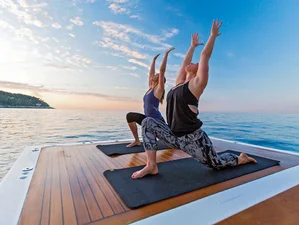 "A journey through land and sea, past & present"

This will be a journey of self-discovery on a majestic sailing boat while enjoying beautiful Croatia away from the crowds. A relaxing and spiritual experience filled with yoga, meditations, and healing ceremonies to make you feel renewed. You will undergo a complete digital detox on-board this wooden classic yacht. Taste exquisite Mediterranean cuisine, lovingly prepared by the chef: locally sourced organic ingredients and fresh seafood.
FROM SPLIT TO DUBROVNIK – THE MOST POPULAR ITINERARY FOR THE SUMMER
One of the most popular cruising itineraries for this summer is a definitely  route from Split to Dubrovnik. This amasing cruising itinerary offers the unique opportunity of exploring the island of Split archipelago and visiting Dubrovnik – the pearl of Adriatic – an unevitable destination for all visiting Croatia.
Highlights
Still and moving guided meditation
Enjoy sunrise and sunset yoga on the sea
A physical and spiritual retreat of all your senses
Cruise along the Dalmatian Coast with pine tree beaches and pristine blue waters
Intimate retreat of 10 guests only, on a luxurious wooden sailing yacht
Healthy organic freshly prepared food daily
7 nights accommodation
Skill level
Beginner
Intermediate
Advanced
---
7 days  with instruction in English
The organizer also speaks: Arabic, Croatian, French, Spanish
Group size: Maximum of 10 participants
 Accommodation
Facilities
 Air-conditioned rooms
 Dining area
 Kitchen
 Yoga deck
 Wireless internet
Double shared accommodations on the luxurious yacht with a private bathroom.
The yacht
Gulet Altair is a very nice six-cabin gullet, a very special specimen since it is the only gullet that was completely built in Croatia, especially for the Adriatic Sea. It has much of the typical gulet trademarks but it also has a unique combination of Croatian design. A beautiful wooden deck and inner and outer dining area allow plenty of space for alone time while being in a group.
It accommodates a maximum of 12 guests
Double and twin rooms come with private bathrooms
4 crew members to support the remarkable service
The crew has an amazing service feedback
Guest cabins configuration
4 double bed cabins (200 × 140 cm)
2 twin cabins (200 × 90 cm)
Each of the cabins has a wardrobe, 24 V/220 electricity, hairdryers, its own en suite bathroom, home-like, with shampoo, toilet paper, soap, shower box.
Beach towels: 1 per person per week
Bathroom towels: 2 towels per person per week.
Additional beach or bathroom towels: on request
Bedding info: bed sheets provided
Air-conditioner: 12 hours / day is included in the price
Deck
The design of the deck is the typical and well-tested layout, with a sunbathing area in the front, and a dining area in the back, as well as a cushioned sofa.
Salon areas
The salon is fully equipped with lounge and seating areas as well as the ship's bar. The bright corridors lead to the six cabins, of which four are a double bed and two are twin bed cabins. The kitchen area is an open plan so you can enjoy an appetizer while watching the diner getting prepared.
Galley and crew quarters
The kitchen galley features all necessary equipment – including ovens, grill, refrigerators, and deep freezers. The crew quarters are separate from the guests with private access at the bow.
Water sports
Water sports on board to add to the facilities available during your cruise include:
Tender boat: 4.5 meters
Paddleboard
Snorkeling equipment
Yacht specifications
Yacht category: Gulet
Length overall: 24.50 m Beam: 7.50 m Draft: 2.20 m
Guest Cabins: 6
Guests number: 12
Berths: 12
Showers/toilets: 6
Cruising Speed: 8 Kts
Superstructure: steel
Cabin floor: wood
Saloon floor: teak
Sun deck floor: teak
Crew cabins: yes
On-board entertainment
TV, DVD/CD player
WiFi
Board games, cards
Equipment
220 Volt shore supply con/24 Volt elec.system
Air conditioner
Deck shower
Deck with dining area
Fly bridge
Full navigation equipment
Full safety equipment
Hairdryer
Home-type toilet
Indoor dining
Sound system
Sailing equipment
Separate crew cabins
Sun mattresses
TV & DVD in all cabins
 Program
Retreat program highlights
Sunrise and sunset yoga on the sea (Hatha, Iyengar, Ashtanga, Vinyasa, Yin, Therapeutic)
Pranayama and breathwork
Guided meditation (still and moving)
Eastern yoga philosophy and ways to apply in your daily life
Qi Gong
Healing ceremonies
Individual healing sessions available (Theta Healing, Reiki, Marma Pressure Points Massage, Life Coaching) – booking necessary
Is this retreat for me?
I want to experience, learn, feel, let go
I want to pause and contemplate my life with the support of a community of like-minded people
I want to learn more about myself and my true potential while discovering new cultures and traditions
I'm going through life changes and would like to gain clarity
I have stress in my life and need a digital detox, to rest and be pampered
I want to learn more about the spiritual side of my life's existence
I've tried conventional healing methods and want a more spiritual body-mind healing
I want to spend a week off the grid immersed with nature
I like adventures, I am ready for something new
I am curious about Mediterranean cuisine and what Croatia has to offer in the culinary sense
I want to discover the islands and medieval cities of Southern Croatia
What will I take home?
The magic of these experiences involves an opportunity to see reality from a different perspective, from another level of consciousness, and will encourage you to make healthier life choices so that you can:
Connect deeply with nature and make heartfelt connections with new friends
Come back home rested with new perspectives and with gratitude for life
Open your heart, gain clarity, and stimulate your creativity
Free yourself from the mental limitations that prevent the expression of your true potential and purpose
New you
Typical day
Daily morning meditation and pranayama (breathwork) practice
Daily morning yoga practice on the deck
Daily healthy breakfast
Individual healing sessions: Reiki, Theta healing, Marma pressure point massage, life coaching and mindfulness (available upon request)
Water activities
Daily freshly prepared and nutritious lunch
Daily sunset Yin yoga practice
Daily yoga philosophy teachings, Dharma discussions, and Mindfulness sessions
Afternoon and evening guided tours from Split to Dubrovnik
Ceremonies and circles of celebration on first and last evening
Instructors
   Joelle Beyrouthy
 CERTIFICATE   
*Yoga Alliance E-RYT 250
Yogini Joelle is an E-RYT 500-hour Yoga Alliance instructor from Canada. She has practiced yoga for the last 22 years and has been teaching in the UAE for last seven years. With her background in martial arts, physical fitness, and dance, Joelle often draws inspiration from Tai Chi, dance, and Pilates moves incorporating them into flowing asana sequences. Her teaching style encourages self-challenge which enables students to strengthen their bodies while simultaneously working on the energetic level with prana or chi and challenges the mind through focus and awareness.
  Tea Vutmej
*Yoga Alliance E-RYT 250   –  Yoga Alchemy School Australia
Reiki Master, Angelic Reiki I & II, Theta Healing practitioner (L5) and Yin Yoga Guide (E-RYT250). Tea started her inner journey in 2007 studying the teachings of Abraham Hicks. She started practicing Reiki, and has studied different streams of reiki including Angelic Reiki. Tapping deeper into meditation, yoga and theta healing, she fell in love with Yin Yoga, a yoga practice that included both stillness and movement while in deep meditation.
 Location
Sail from Split to Dubrovnik for eight days on a spacious and luxurious wooden classic yacht, discovering every day a different island, beach, and city! The cruise covers the highlights of the Dalmatian Coast such as island Hvar, Vis, Brac, Korcula, and the stunning Dubrovnik.
 Food
Included in your package are daily healthy breakfast and lunch (daily freshly caught fish and seafood) as well as non-alcoholic beverages i.e. water, tea, and coffee. For dinner, enjoy your evening meal at the best, recommended restaurants in Croatia (at your own expense).
Croatian cuisine
Step into the local kitchen of an authentic Dalmatian family, drawing the inspiration from the olive groves, local markets, and vineyards, allowing you to experience the flavors of Croatia with all your senses.
Chef Roko will be preparing Croatian inspired vegetarian-centered dishes from locally sourced ingredients accented with some fresh seafood. You will contribute with your wishes to the menu, advising on your ingredients preference.
The menu will be created especially for this group from the list of the locally sourced ingredients we will choose from, once all guests submit their feedback in regards to their food preference and possible food allergies.
The following meals are included:
Breakfast
Lunch
Snacks
Drinks
The following drinks are included:
The following dietary requirement(s) are served and/or catered for:
Vegetarian
Vegan
Pescatarian
Seafood
If you have special dietary requirements it's a good idea to communicate it to the organiser when making a reservation
 Things to do (optional)
Spend more days in beautiful Croatia by visiting Split, Zagreb or Dubrovnik – information available upon request.
As one of Europe's most popular beach destinations and blessed with year-round sun, Croatia's historic towns and idyllic islands have a wealth of natural attractions to offer. Pristine beaches, jewel-like lakes, ancient ruins, and more than 1,000 idyllic islands, Croatia is one of Europe's hottest tourist spots. Add to that some Michelin-starred restaurants, underwater wineries, and Westeros-worthy vistas, and you have yourself an undeniable bucket-list destination.
 Spa treatments
Theta Healing, Reiki, Marma Points Massage, Private Coaching Sessions are available upon request on the boat, at a special retreat rate.
 What's included
7 nights shared accommodation on the Altair gulet boat
Daily healthy breakfast and lunch (daily freshly caught fish and seafood)
Non-alcoholic beverages i.e. water, tea, and coffee
Daily 2 yoga sessions: at sunrise and sunset
Daily meditation and mindfulness sessions
Tailored sailing tour during itinerary from Split to Dubrovnik
Individual healing sessions available at a discounted price
 What's not included
Flight tickets
Schengen visa
Insurance
Restaurants meals
Hotel accommodations before and after the sailing route
Airport transfer
Individual or private healing sessions
Boat crew tips
 How to get there
Recommended Airports
DBV  –  Dubrovnik Airport  182 km   
(Transfer not provided)
SPU – Split Airport  11 km   
(Transfer not provided)
ZAG  – Franjo Tuđman Airport  250 km   
(Transfer not provided)
---
Arrival by airplane
Please book your flight to arrive at Split Airport (SPU). You can also fly to Dubrovnik Airport (DBV) or Franjo Tuđman Airport (ZAG). The route starts from Split. Split to Dubrovnik is three hours by bus, and buses go a few times a day (it is relatively easy to get a bus ticket). The two cities are also connected by a catamaran ferry, which operates daily.
You could also fly into Zagreb, take a domestic one-way flight to Split, and then a domestic one-way flight back from Dubrovnik to Zagreb. If you fly into Zagreb, you could also take a five-hour bus ride to Split. Busses are new, they're air-conditioned and you travel via highway, so they make a good option.
Some of the airlines operating out of Zagreb (ZAG), Split (SPU) and Dubrovnik (DBV):
Etihad Airways
Emirates
Croatia Airlines
Air Serbia
Turkish Airlines
Lufthansa
Aeroflot
 Cancellation Policy
A reservation requires a deposit of 50% of the total price.
The deposit is non-refundable, if the booking is cancelled.
The rest of the payment should be paid 45 days before arrival.
Prices and availability are indicative. 
The organizer will inform you of the exact prices and actual availability!
                                                                  BOOK YOUR TRIP NOW!
                                                             SAVE  5% OF REGULAR PRICE
*7 nights shared accommodation on the Altair gulet boat
*Daily healthy breakfast and lunch (daily freshly caught fish and seafood)
*Non-alcoholic beverages i.e. water, tea, and coffee
*Daily 2 yoga sessions: at sunrise and sunset
*Daily meditation and mindfulness sessions
*Tailored sailing tour during itinerary from Split to Dubrovnik
*Individual healing sessions available at a discounted price
Price: 3050 EUR per person  (minimum 8-10 people to run the tour)
*Flight tickets
*Schengen visa
*Insurance
*Restaurants meals
*Hotel accommodations before and after the sailing route
*Airport transfer
*Individual or private healing sessions
*Boat crew tips