EXPLORE THIS UNIQUE CITY KNOWN FOR DIVERSITY AND FUN
Croatian capital city, and the largest business, political and student centre, Zagreb offers so many things to do for locals and tourists alike. Unlike its coastal counterparts, Zagreb lives all year around.
There are seriously so many things to do in Zagreb, that you'll quickly want to extend your stay here.
Zagreb is vibrant. It is flat and thus a perfect place to walk or cycle. Zagreb is relatively small compared to other European capitals. And, it has lots of parks and even forests within the city limits.
Contents
WHAT TO DO IN ZAGREB: 20 AWESOME THINGS TO DO IN ZAGREB
In this post, we bring you an extensive list of things to do in Zagreb. Zagreb is a lovely city, with laid back atmosphere, strong coffee culture, pedestrian-only town's center, great bistro-style restaurants, green markets, the interesting craft beer scene, good downtown shopping, and stripes of bars and cafes at every corner.
EXPLORE UPPER TOWN
The upper town is my favorite part of Zagreb. Here you will find some of Zagreb top sights. This part of town is exactly what its name suggests: it's a part of the town perched on the slopes of the Medvednica Mountain. Along with Kaptol, this is the oldest part of the town. Remains of town walls and towers that surrounded the Upper Town in the medieval times are still preserved.
Zagreb's upper town is a truly romantic part of Zagreb. It's never overcrowded, and the traffic here is limited. It's full of historical landmarks, secret passages, small museums, art galleries, and fun bars. You'll also find here a Croatian Parliament building.
Zagreb Travel Blog: Things To Do In Zagreb |What To See In Zagreb Croatia: Upper Town
Zagreb's Upper town features some of the Zagreb top attractions: the Lotrscak tower, Stone gate (Kamenita vrata), St. Marc Church, Museum of Broken relationship, Stross promenade, the Mestrovic Atelier, the Klovicevi Dvori gallery.
But besides all those obvious sights and landmarks, Zagreb's Upper town is famed for its secret sights, many courtyards tucked away from the main streets behind unassuming facades. Two events particularly celebrate this side of the upper town: Secrets of Grič, and Dvorišta.
SECRETS OF GRIC
Secrets of Grič, a night tour of the upper town with costumed historical characters (and some fictional), is based on historical facts, but blended also with known urban legends, and stories of famous Croatian novelist, Marija Juric Zagorka. This tour takes place from mid-June through September, in English, every Saturday, at 9.00 pm. The ticket costs 150 Kn, and it lasts for one hour. This is a great opportunity to experience different Zagreb, a history of the town as told by great Croatian novelist.
DVORISTA
Another event that highlights hidden side of Zagreb's upper town is simply called Dvorišta, meaning Courtyards in Croatian. It takes place in mid-July, for nine days. With a motto "each courtyard has its story", this event offers visitors a chance to experience part of the town that is usually shut behind facades, and doors. Participating courtyards are properly decorated and lighted, and each one features live music, drinks, and snacks.
WALKING TOURS
Iva Silla of Secret Zagreb Walks offers also interesting tours of the upper town that reveal another side of Zagreb. Their most interesting tours are Private Zagreb Walking Tour, and Zagreb Ghosts & Dragons Tour.
Here you have it – exploring the upper town is high on our list of best things to do in Zagreb!
Recommended tours:
DON'T MISS DOWNTOWN ZAGREB
Downtown Zagreb is perhaps the town's area where you will spend most of your time in Zagreb. However, don't limit your visit to the main square and a few streets around it. While a visit to those Zagreb Croatia points of interest is a must-do, we recommend that you seek out Zagreb tourist attractions beyond the few obvious ones.
So, here are our suggestions for what to see in Zagreb downtown.
Jelacic Square is Zagreb's main square and the starting point for exploring the downtown. The square is huge, with lovely buildings surrounding it on all four sides. The majority of buildings date back to 19th century and feature different architectural styles: from post-modernism, Art Nouveau, and Biedermeier.
Many trams pass through the main square, connecting different Zagreb neighborhoods. Climb up the skyscraper in Ilica 1 for awesome 360° views of Zagreb, go to the chocolate & candy store Kras for some sweet souvenirs to bring back home, make a wish at Mandusevac fountain, or dance a night away in Johann Franck Club.
TKALCICEVA STREET
Once a creek that separated two towns: Kaptol, and Gradec, Tkalciceva Street, or Tkalca as locals call it, is a lovely pedestrian street lined with cafes, restaurants, and small shops on both sides of the street.
Many of these businesses are housed in small historical houses of different colors. And it just adds to the charm of Tklaciceva Street. The street starts just behind the main Jelacic Square and goes all the way to Kaptol Center.
Things To Do In Zagreb Croatia|Zagreb What To Visit: Tkalciceva Street|Photo credit: Jorge Franganillo & Flickr
Stroll up and down Tkalciceva, take photos, climb up to Dolac Market, have breakfast or a leisurely lunch at Otto and Frank (Tkalciceva 20). Taste a local beer at Mali Medo (Tkalciceva 36), jazz it up in Melin (Kozarska 16; just above Tkalciceva), take a flight of local brandies at Rakhia Bar (Tkalciceva 45), or enjoy some blues and rock at Booze and Blues Bar (Tkalciceva 84).
BOGOVICEVA STREET AND FLOWERS' SQUARE
Bogoviceva Street is another downtown street full of cafes. It's ultimate see and be-seen Zagreb spot, particularly so on Saturday between 10 am and 1 pm.
Cvjetni Trg (Flower's Square) is called so due to few flower stalls you can find there. The square is also filled with cafes, bars, casual eateries, and a shopping mall. Zagreb Orthodox Cathedral constructed in 1865, and Oktogon, a covered passageway that connects Flower's Square with Ilica can be found here too.
East downtown consists of a few interesting streets and neighborhoods, particularly Mestrovic Pavillon (Dzamija), Vlaska Street, and Marticeva Street.
VLASKA STREET
A long street starting right behind the main square, and going east all the way to Kvaternik Square, Vlaska Street consists of two parts: Old Vlaska (the part from the main square to Draskoviceva Street), and new Vlaska (further east from Draskoviceva).
This street is a bit rough around the edges but it's full of interesting courtyards, hidden restaurants, and lovely bars. Don't miss having a coffee at Finjak, the most instagrammable café in Zagreb, tasting one of the best pizzas in town at the pizzeria Karijola, or yummy lunch at Mali Bar, one of our favourite restaurants.
MARTICEVA STREET
Marticeva Street runs parallelly with Vlaska, from Croatian National Bank all the way to Kvaternik Square.
Not so long ago, Marticeva was nothing but a somber street full of car dealerships, and car parts shops, but today this is very popular among designers, hipsters, artists, and writers.
Hang out at Booksa, a cool bar for books aficionados, check Zagreb awesome modernist buildings – Wooden Skyscraper in Marticeva, and colourful Vitic skyscraper in nearby Laginjina Street, have a coffee at trendy Program Bar, or in a creative Mr. Frog Bar, or have a bite in nearby Noel Restaurant (Popa Dukljanina Street).
If you happen to be in Zagreb in mid-June, don't miss the Design District Festival that takes place in and around Marticeva Street. The festival celebrates local creative communities and businesses from the neighborhood. The program includes jazz, yoga, and meditation at the roof-top, furniture exhibition, various workshops, architecture-focused guided tours, etc..
ILICA STREET
Ilica is one of the oldest and longest Zagreb streets. It's almost 6 km long, and it stretches from the main square all the way to Crnomerec to the northwest.
This busy street is full of shops; many high street fashion stores, like Zara, Mango, and many shoe stores like Echo, or Geox are located closer to the main square, but as you continue along Ilica further from the downtown, all kinds of shops emerge.
Have an ice cream at Vincek (Ilica 18), buy original Croatian souvenirs at the Take Me Home Design Shop (Tomiceva 4, just off the Ilica Street), and have a funicular ride to the Upper Town (Tomiceva, just off Ilica Street). Taste the best coffee in town at the Eliscaffe (Ilica 63), enjoy awesome food at the Soi Fusion Bar (Ilica 50), or visit the Museum of Illusions (Ilica 72).
Also, don't forget to visit Nama, the only department store In Zagreb you have to visit even if you don't plan to buy anything. The store is a bit old fashioned but it still features many Art Nouveau details like stained glass, and wrought-iron railings, dating back to the times when it was built, in the early 20th century.
VISIT MUSEUM OF BROKEN RELATIONSHIPS
A Museum of Broken Relationships has gained lots of attention ever since it was created, first as a traveling exhibition back in 2006, and since 2011 as a museum with a permanent location in Zagreb's Upper Town.
This museum is exactly what it names suggests; all items featured here are relics of broken relationships. Each item is accompanied by a story: some funny, others sad.
It is quirky, fun, and it takes less than an hour to wander through everything. They even have a little bar to have a drink, charge your phone or check your mail (yes, they've got a complimentary WiFi internet).
And don't go there empty-handed.
Contacts: Cirilometodska 2, Zagreb | tel: +385 1 485 1021 | e: info@brokenships.com | Website
Admision: Adults: 40 Kn | Students & Seniors: 30 Kn
Working hours: Jun-Sept: 9 am-10.30 pm daily | Oct-May: 9 am-9 pm daily | Closed on Christmas, New Year's Day, Easter, and All Saints' Day
SHOP AT ZAGREB'S FARMERS' MARKET(S)
Zagreb got its first farmers' market back in 1890, and ever since they remain "the belly of the neighborhoods". I've read somewhere that there are 28 green markets in Zagreb. They are an integral part of the Zagreb lifestyle. Vibrant, noisy, and lively, they are the best places to feel a local vibe.
The most popular farmers' market is Dolac. Centrally located, just behind the main square, Dolac spreads on two floors. The upper level features open-air green market, souvenirs, and clothes, enclosed fish market, bars and restaurants mostly serving fast food or marenda. The ground level is enclosed and it features butcheries, bakeries, specialty food stores, and my favorite part – a dairy section.
Our tip: In the down section, from the main entrance, head straight to the diary section, all the way to the right. Here old women sell their homemade cheese, cream, and awesome cornbread.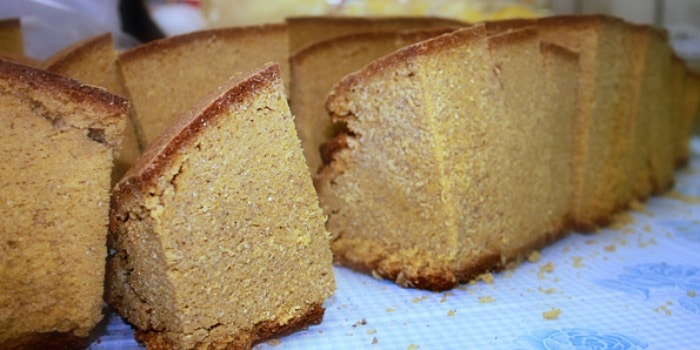 Another popular farmers' market in Zagreb is Britanac. It's only two tram stations from the main square direction East (tram no. 1, 6, or 11). And while Britanac is really the city center, it feels much more intimate than Dolac. Maybe it's due to the fact that the market is actually in the middle of a town's square (Britanski Trg), or a wear-and-tear look of the buildings surrounding it, but Britanac is kind of place people feel good at. Every Sunday the antique market takes place on Britanac.
Our tip: Have a speciality coffe at the Eliscaffe.
Other popular markets are Kvatric and Tresnjevka. Put strolling green markets on your list of things to do in Zagreb.
Recommended tour: Taste Zagreb: 4-Hour Food Tour
EXPLORE ZAGREB PARKS AND FORESTS
Zagreb has lots of green areas, parks and forests within the city limits. And walking in the park is always a good idea when thinking of what to do in Zagreb.
In downtown, make sure to follow the Lenuci's horseshoe. This unique urban complex consists of seven landscaped town's squares and a botanical garden. Lenuci was a lead architect on the project, while the shape of this urban complex reminds of a horseshoe. Thus, the name – Lenuci's Horseshoe.
Below is the map with all the details. The most popular landscaped squares are Zrinjevac (if you are in Zagreb during a Christmastime don't miss a great entertainment program on Zrinjevac), and Trg Kralja Tomislava (right across the central train station).
Located east of downtown, Maksimir is Zagreb's oldest (open in 1794) and largest public park. It's also home to the town's ZOO. The first part of Maksimir is a classical, landscaped park with a wide central promenade, five artificial lakes, creeks, and meadows. The second part of the park consists of original, natural forests. Maksimir is very popular among locals, especially in spring.
One of my favorite parts of Zagreb is natural forests starting already downtown and girdling the northern neighborhoods. I recommend you to take a walk in some of them. Some, like Tuskanac, or Dubravkin put, you can reach within a 10 minute walk from the main square.
Other popular forest parks in Zagreb are: Zelengaj, Cmrok, Jelenovac, Prekrizje, and Pantovcak.
Other parks in Zagreb are Bundek, Lake Jarun, and Medvednica.
SIP A COFFEE … FOR HOURS
Nowhere, and I say nowhere, is coffee culture so strong, so obvious, so important as it is in Zagreb. You'll notice this social phenomenon as soon as you start exploring the town.
Beautiful outdoor terraces are fitted with sun umbrellas during the summer, and heaters during the winter, and they are always full regardless of the time of day you pass by. If you get to know any local, (s)he will certainly invite you for a cup of coffee. You can order anything else, it's just that a word coffee here somehow got a meaning of a word drink.

Zagreb Travel Blog: Things To Do In Zagreb |Velvet Cafe
Main spots in Zagreb to have a coffee are Tkalciceva Street, Bogoviceva Street, and Cvjetni Trg. And while you should definitely visit them, our favourite cafes aren't located in these streets.
Velvet is a great little café bar-gallery tucked away at the corner of Tuskanova and Dezmanova Street. This is our favourite place to have a coffee, or a simple breakfast like a croissant & freshly squeezed orange juice.
Dubbed "the most instagramable cafe in Zagreb", Finjak serves great coffee, a good selection of teas, a good choice of beers, and gins. It is located in a courtyard just off Vlaska Street.
Palinovka is located in Zagreb's Upper town. It's a popular Zagreb cafe with a wonderful outdoor terrace and friendly, neighborhood atmosphere.
If you prefer to join locals in your quest to discover perfect Zagreb cafes, you can check this guided Zagreb tour.
HIT THE CLUBS
Zagreb Travel Blog: Things To Do In Zagreb |Photo credit: P.Audio & Pepermint Zagreb
We'll be honest … not right people to talk about Zagreb nightlife, but nevertheless, we'll share a few facts we know.
I wouldn't consider Zagreb as truly party town, that you'll find more east, like in Belgrade, or Prague. But, nightlife in Zagreb is still decent. No matter what kind of music you like, or what kind of party you enjoy, you'll find your place at Zagreb's night scene.
Generally, people start a bar crawl in bars located downtown, particularly in Tkalciceva Street.
Later they usually hit clubs either downtown or at the lake Jarun. Popular night clubs are Sax, Vintage Industrial Bar, Gallery, and Aquarius.
One of the ways to feel Zagreb's bar scene is to book an organized bar crawl tour. You can get more details here, and here.
And if you love beer, head to our post about the best places to have a beer in Zagreb.
CYCLE AT THE LAKE JARUN
Lake Jarun is an artificial lake located in the western part of the town. People of Zagreb love this lake, and it's one of the most popular recreational areas in the town. The lake is also a popular clubbing place for after dark.
You can jog, walk or cycle the lake; you can swim in the lake during the summer, or have a picnic. If you are staying in Zagreb for more than a day, it's always a good idea to explore the town beyond its center. Visiting Lake Jarun is one of the recommended things to do in Zagreb.
Lake is easily reachable from the city center. Just hop on tram no. 17 or no. 5 and they will get you to the lake in no time.
Recommended tour: Zagreb Big Tour
EAT YOUR WAY THROUGH ZAGREB
I. Love. Restaurants. In. Zagreb. Being the capital of Croatia, Zagreb really has an excellent restaurant scene.
Although the town still somehow lacks in choice of restaurants serving different ethnic food, even this part of the Zagreb food scene started developing in the last few years. The rest assured you can really eat well in Zagreb, and not necessarily expensive.
The big trend lately is small, bistro-style restaurants serving fresh food based on seasonal ingredients. Burgers also seem to be in fashion in the last years. Although not fast food burgers, but fancy and juicy mini burgers served by trendy restaurants.
Lunch is still a no. 1 meal in Croatia. For example when we stay at my in-laws, we always have a big lunch, while for dinner we'll just eat leftovers or a sandwich. Zagreb isn't different. And since many people are at work during a lunchtime, many restaurants offer a cheap (around 5-6€), simple but delicious and homemade lunch menu (called gablec in Zagreb). We've put together a list of best restaurants to have a lunch in Zagreb. You can also check our post on must-try restaurants in Zagreb.
Recommended tours:
VISIT MUSEUMS
Whether you are an art & history buff or bluff, when thinking of things to do in Zagreb, consider visiting some of Zagreb museums and art galleries.
MUSEUM OF BROKEN RELATIONSHIPS
The museum of broken relationships is quirky. Besides, it's small and it has a nice café with WiFi, a good selection of coffees and teas, and homemade cookies. So you really have no excuse to skip visiting at least this one when in Zagreb (see above for more details).
CROATIAN MUSEUM OF NAIVE ART
Unfortunately this museum is closed since January, 2020. It should remain closed for another 3 years. However, as soon as it opens its door, we'll update information here.
Right across the street from the Museum of Broken Relationships, you'll find Croatian Museum of Naive Art. This is apparently the world's first museum of naive art. It displays paintings of Croatian naive artists, including works of Ivan Generalic, Franjo Mraz and Mirko Virius, founders of Croatian naive art. It would take you max. half an hour to visit. The staff is very informative and eager to answer all your questions.
MESTROVIC'S ATELIER
Tucked away in a former Mestrovic family house, in Zagreb's Upper town, you'll find Mestrovic's Atelier. Ivan Mestrovic was one of the top sculptors of 20th century. Even Rodin called him a genius. The atelier features his works, but also shows family history through documentation, photos, and furniture. His works are displayed in each room, but also in the lovely garden. Local tip: Lack of detailed information on artist and his work, especially in English. It's worth bringing with you your own guide book.
KLOVICEVI DVORI GALLERY
The Klovicevi Dvori Gallery is probably the most popular art gallery in Zagreb. It's home to many travelling world exhibits once they arrive to Zagreb. Besides that, another interesting gallery, although a bit worn out, is Mestrovic Pavillon, located downtown, only two tram stations from the main square (tram no. 1, 17).
TECHNICAL MUSEUM
Technical Museum, maybe bears a boring name but has interesting content, especially for children, and technical geeks. The main floor is dedicated to transport with a display of old cars, trains, planes, trams, as well as models of different ships and boats. Smaller rooms and balcony feature firefighting equipment, and mock-ups of satellites and spacecraft, and even mining equipment including a mine shaft. The highlight of the visit is a scheduled demonstration of Tesla's electrical feats and discoveries. For info and schedule check the museum's website. One of the great things to do in Zagreb with children.
LAUBA HOUSE FOR PEOPLE AND ART
A contemporary art gallery, located in a former textile mill, Lauba is a privately-owned gallery, opened in 2011 with Tomislav Klicko's private art collection. Since then, it has become a creative place and exhibition space for many Croatian and international contemporary artists. Although it's located off the main tourist sites, Lauba is an interesting place to visit: the interior is lovely, temporary exhibitions change regularly, and there is a nice bistro with very decent food.
TORTUREUM
Tortureum is a torture museum recently open in Radiceva Street in Zagreb. The museum is small, yet very interesting. It exhibits a range of tools used for torture and execution throughout history.
MUSEUM OF ILLUSIONS
Museum of illusions is located in Ilica Street. Get lost in the maze of mirrors, watch people around you shrink or grow, have fun with many other optical illusions and brain teasers. It's rather small but in our opinion a great place to visit with kids.
ZAGREB CITY MUSEUM
Opened in 1907, Zagreb City Museum shows different aspects of life and development of Zagreb through history: from prehistoric to modern times. The museum is small and never crowded, but well laid out and with well-described items. A great place to start exploring Zagreb because it will make you understand it better.
HIKE MEDVEDNICA MOUNTAIN (IF IT'S WEEKEND THIS IS WHERE MANY LOCALS ARE)
Medvednica Mountain is located north of Zagreb, while its slopes are an integral part of the town. There are many hiking trails on the Medvednica, but probably the most popular hike that locals take is up to the Puntijarka mountain house, located at the elevation of 957 m, just below Sljeme, the highest peak of Medvednica.
The hike literally starts in the town, from the last tram station all the way up (no.14 from the main square; and then a no.15). On weekends the trails get busy with locals. However, if you aren't into hiking, you can also reach the summit by car or a city bus.
In Puntijarka you can have a simple traditional meal, like beans, or roasted potatoes, or a delicious apple pie. And the prices are very affordable.
Another popular hiking trail (because it's the least demanding, and close to the town) is Miroslavec trail that starts in Sestine and takes you to the Kraljicin Zdenac along and across the creek.
Kraljicin Zdenac is a small pond. Next to it there ate plenty of wooden tables and benches for a picnic and a rest. A bit higher there is a mountain house Lugareva kucica offering simple but delicious meals.
Other popular landmarks include remains of Medvedgrad, a medieval fortified town; caves and springs, like Veternica and Zdencec; chapels and churches; and a hotel Tomislavac.
If you like to feel like local, hiking should definitely be on your list of things to do in Zagreb.
Recommended tours:
VISIT ZAGREB CATHEDRAL
It is nice, it is close to the main square. It has lots of Gothic architectural elements. The embalmed body of the Cardinal Stepinac lies in a sarcophagus near the main altar. The interior is full of statues, paintings, and inscriptions in a Slavic script. Check how Matt from Landlopers got genuinely surprised by it.
VISIT ZAGREB CEMETERY
This is actually a weird one. I would never visit cemeteries no matter how nice they are. The last cemeteries I visited were Paris and Varazdin. But I didn't find it entertaining. Neither could I enjoy "the beauty".
However, Zagreb cemetery is listed on Tripadvisor as the 10th of 204 attractions in Zagreb. Must be a reason. And there must be people different than myself. The description on Tripadvisor says "This cemetery contains world-class artwork and atmosphere." Atmosphere? Whatever. Well, here you have one of the quirkier things to do in Zagreb.
The cemetery is beautiful, well laid out with a monumental entrance and a central part full of sculptures. You can visit graves of many famous Croatians like Drazen Petrovic and Kresimir Cosic, famous Croatian basketball players, Ivo Tijardovic, Croatian composer, a painter Edo Murtic, many other sportsmen, politicians, actors, and alike.
Bus no. 106 brings you up to Mirogoj from Kaptol (a bus stop near the Cathedral).
360º VIEWS OF ZAGREB
Climb to the 16th floor of the only high-rise on Zagreb's Main Square and enjoy 360-degree views of the city. Open every day from 10 am to 11.45 pm. Besides the observation deck, there is a nice bar where you can have a drink while enjoying the views.
Skip the line by purchasing your admission ticket in advance!
SKYDIVING IN ZAGREB
Things To Do In Zagreb |Zagreb Travel Blog |Photo credit: Adventure-Driven-Vacation.Com
Dreaming of diving through the skies? Maybe Zagreb is the place to experience this adrenaline-pumping activity. Located at the Lucko sports airfield, Skydiving Zagreb offers tandem jumps from their Cessna planes. The jump is at around 3.000 m, with a free fall of about 30 to 50 seconds. It'll set you back 199 €.
Get more info here.
ESCAPE GAMES
There are few companies in Zagreb offering this live game. The game is intended for 2 to 5 people. Basically you get clues, hints, and 60 minutes time to escape a zombie lab or a bunker, and get yourself out using logic and teamwork. It costs 70 to 175 Kn depending on the number of players. You can check more details here, here, and here.
A DAY TRIP TO PLITVICE LAKES
A one day trip from Zagreb to Plitvice Lakes is simply one of the best things to do in Zagreb. Plitvice Lakes is one of the most visited sites in Croatia. The park consists of 16 lakes interconnected by many waterfalls, and cascades. There is a total of 8 trails you can follow in the park. The hike can take anywhere from 2 up to 8 hours.
There are a few ways to visit Plitvice from Zagreb.
You can take a combo tour that includes a transfer from Zagreb to Split, as well as a visit to the Lakes. As such, it's actually a pretty good deal. There is plenty of time to visit the lakes, and also to have lunch before proceeding to Split. For 130 € you get a door-to-door transfer from Zagreb to Split, as well as admission tickets for the Plitvice Lakes included in the price.
Save on your transfer and a trip to Plitvice Lakes by booking in advance!
You can also visit Plitvice lakes on your own, by car, or by bus that connects Zagreb with Plitvice Lakes. A one-way bus ticket costs anywhere between 10 € and 15 €. The ride takes 2h to 2.30h (depending on a line, and a number of stops in-between). You can check bus schedules here.
Another viable option is to book a group tour from Zagreb to Plitvice Lakes. It takes a minimum of 2 persons to run the tour. The tour costs 59 €, including transport and a guide but excluding entrance tickets that you need to buy in advance online. Click here for more info on a group tour to Plitvice Lakes.
Interested to know more? Read our Ultimate Plitvice Lakes Travel Guide.
VISIT LJUBLJANA, LAKE BLED AND POSTOJNA CAVE
Things To Do In Zagreb Croatia|Things To Do Around Zagreb: Lake Bled|Photo credit: Walkerssk & Pixabay
Slovenia is easily reachable from Zagreb. And if you don't plan to visit it on its own, you can consider a day trip to Slovenia as one of the things to do in Zagreb.
The most popular sites in Slovenia include Ljubljana, Slovenian capital city, then Lake Bled, a wonderful lake in the Julian Alps, and Postojna Cave, one of the largest karst cave systems in the region.
Ljubljana is only 140 km from Zagreb, and both, Lake Bled and Postojna Cave are 50 km away from Ljubljana. While theoretically, you can visit all three in a day, we suggest you stick to two; either Ljubljana and Lake Bled, or Ljubljana and Postojna Cave.
You can visit Slovenian highlights from Zagreb either on your own by car, or it might be just more convenient to visit them on a group tour. Prices of these coach tours differ, as some include certain admission fees, and others don't. Double-check what is included in the price before booking.
Recommended tours:
EXPERIENCE TRAKOSCAN CASTLE AND THE BAROQUE TOWN OF VARAZDIN
Trakoscan Castle dates back from 13th century, and it lies at the shores of Trakoscan lake. It's a nice day trip from Zagreb, as you get to see the castle, have a nice walk around in the nature, and enjoy stunning views from some of the windows in the castle.
Today, the Trakoscan Castle houses a museum with a collection of photos, books, weaponry, furniture, paintings, and prints. The admission costs 40 Kn per adult, and 20 Kn for kids aged 7 to 18. The museum is open every day from 9 am to 5 pm (8 pm from April to November).
Varazdin, on the other hand, is a small baroque town with beautiful architecture, lovely palaces from 19th and 20th century, and one of the oldest city halls in Europe. Varazdin is also known for its park-like town's cemetry.
Recommended tour: Varazdin and Trakoscan Castle Tour

EXPLORE WINE GROWING HILLS OF PLESIVICA BY BIKE
Plesivica is a hilly wine-growing region half-way between Jastrebarsko and Samobor, about 30-minute drive from Zagreb.
The region is perfect for hiking, cycling, and well, wine tasting. Some of the popular winemakers from the area are: Tomac, and Sember, both known for their sparkling wines, then Korak wines, as well as Rezek wines.
The best way to see the region is by group tour or hiring a private driver. This way you can sample as many wines as you want without worrying about driving.
Recommended tour: A visit to Plesivica Hill Wineries and Samobor With Food & Wine Tasting
VISIT SAMOBOR
Samobor is a gorgeous little town less than 30 km away from Zagreb. Famed for Krempita cake (cream puff pastry cake), its carnival, lovely architecture, and nice walks, Samobor is one of the most popular day trip destinations among people from Zagreb.
If you have a chance, plan a visit to Samobor. You can either do it by means of local buses or even on a bicycle. A one-way bus ticket costs around 30 Kn (4 €). Buses leave from Zagreb central bus station, but also from other stops along the way, as Ljubljanica bus and tram stop, or Crnomerac.
You can also book a guided tour of Samobor to learn more about town's history, and discover hidden gems.
QUICK ZAGREB TRAVEL GUIDE
We've written in-depth Zagreb travel guide, full of useful information for anybody planning a visit to Croatian capital. However, if you just want a quick overview to plan your stay in Zagreb, below we give you a few suggestions about places to stay, recommended restaurants, best bars, public transport, and transfers.
ZAGREB ACCOMMODATION
Here are our few suggestions for places to stay in Zagreb, from Zagreb hotels to apartment rentals and hostels.
ESPLANADE ZAGREB HOTEL
If you don't mind paying a little bit extra, this is the place to stay in Zagreb. Constructed in 1925 for passengers on famed Orient Express, hotel Esplanade still features many details of that Epoque, and it's a true landmark of Zagreb. Click here for more info and availability.
BEST WESTERN PREMIER HOTEL ASTORIA
This lovely hotel, located in downtown Zagreb, a short walk from the main square, features 98 rooms and 2 suites. Rooms bear classic design, with carpeted floors and a bit dated decor, however, they are comfy, clean and well-appointed. The staff is friendly, and the overall atmosphere is convivial and laid-back. Rich breakfast, top location, and private parking make this hotel a favorite among visitors to Zagreb. More info and latest prices …
HOTEL 9
Modern, design hotel, located next to the main bus station, hotel 9 offers spacious rooms with comfy king beds. Staff is super-friendly. Click here for the latest prices.
JAGERHORN HOTEL
Located in a courtyard, just off the Ilica Street, hotel Jägerhorn first opened back in 1827. It is Zagreb's oldest operating hotel. It's a 3-star property with clean and comfy rooms, and friendly staff. Parking is off-site. More info …
B&B FOTIC
This lovely bed & breakfast located in downtown Zagreb offers only three rooms, each of them with en-suite bathroom. B&B Fotic also features lovely onsite bistro. Click here for the latest prices and availability.
IRUNDO APARTMENTS
Irundo manages around 60 apartments and rooms, all scattered throughout the downtown Zagreb. They have a choice of studio, one-, two-, and three-bedroom apartments, as well as single and double rooms with ensuite bathrooms. All apartments are modern, and well-equipped, including the fully-equipped kitchen in each of them. A great alternative to hotels, if you long for more space, and cheaper stay, particularly for larger parties. Click here for more info and prices.
TESLA BOUTIQUE APARTMENTS
Located in the heart of Zagreb, in Teslina Street, Tesla Boutique Apartments consists of three apartments that can accommodate two to four persons. Apartments are brand new, fully-equipped, with all modern cons, including WiFi. More info here …
DESIGN STUDIOS SVI-MI
Located in downtown Zagreb, in Marticeva Street, Design Studios Svi-Mi consists of five fully-equipped studio apartments. Apartments are modern, clean and comfortable. Parking is provided in a garage nearby, and it costs approx. 12€ for 24h. More info and prices …
SWANKY MINT HOSTEL
This is our go-to hostel. Very well designed, Swanky Mint hostel offers dorm rooms, as well as private rooms with en-suite bathroom. If you travel solo, or look for a cheaper accommodation, we highly recommend staying at this hostel. Click here for more info.
MAIN SQUARE HOSTEL
This is another cool hostel, located just behind the main square (thus the name!). We love their industrial feel, with high ceiling and exposed pipes. Rooms are bright, with boxed beds for maximum privacy. More info …
EATING OUT IN ZAGREB
Zagreb restaurant scene is constantly changing, and for the most part, improving all the time. However, it's not always easy to recommend restaurants in Zagreb, as some of them shine for a year or two, just to completely disappear the following year.
We've seen it happen with Prasac, former restaurant in Upper town, or 5/4 restaurant in downtown. However, below we list a few of our fave eateries in Zagreb, which we hope will be around for quite long time making superb food.
RESTAURANTS IN ZAGREB WE LIKE
Mali Bar: Mali Bar, a bistro tucked away in a courtyard off Vlaska Street, is run by Croatian star chef – Ana Ungarkovic. This place is convivial with many regular customers. Food is fresh and seasonal. Taste their homemade chicken liver pâté, beer-battered fish and chips, or peas soup.
La Struk: La Struk is a cute little place located in Skalinska Street (near Dolac market) that serves only one Zagreb classic dish – strukli, a cheese-filled pastry. They prepare it in two ways: boiled, and baked, and as sweet or savory. The dish comes in many variations: only with cheese, bacon & onions, truffles, blueberries, honey & nuts, apples, and cinnamon, etc.
Rougemarin: Rougemarin is our favourite restaurant in Zagreb. Housed in a former lightbulb factory, the restaurant features a large dining room whose interior has a rough industrial feel, and a large breezy and shaded terrace – a perfect place to eat al fresco. The food is fresh and delicious. Some items change monthly, while others remain standard on the menu. We love their spring rolls, stir fry veggies, pork and udon noodles wok, and their choco-orange cheesecake is to die for.
SOI Fusion Bar This relatively new bar (opened in 2019) located within Swanky Mint Hostel, serves Asian fusion food. Here you can indulge in dishes like gyoze, satay or katsu chicken, green curry or tuna poke. All dishes are super yummy, and prices go from 5 to 10 € a dish. Don't miss their crazy dessert – sticky toffee pudding!
Amelie: Amelie is the most popular pastry shop in Zagreb with shops at three different locations in Zagreb: in Vlaska Street just next to the main square, and two other in residential area of Zagreb, both not far from the Maksimir Park. Amelie offers a variety of cakes and pastries, as well as a choice of hot and soft drinks.
BEST BARS IN ZAGREB
… FOR BEAR
Mali Medo: One of three pubs that belongs to Medvedgrad Brewery, being located in the midst of Tkalciceva Street, Mali Medo is their most prominent pub. They brew their own beers: lagers, ales, and IPA. Place is always busy, and thus service can be slow. Nevertheless, atmosphere is always great, their beers are superb, and the prices are affordable.
Tolkien's House: Serving the best beer in Zagreb since 1996, Tolkien's House is a must-visit pub in Zagreb for beer aficionados. Located at Opatovina 49, a strip of bars between Dolac Market and Tkalciceva Street, you'll find here a great choice of craft beers, stouts, porters, and other special brews.
Pinta: We love this small pub in Radiceva Street. Cozy interior with vaulted ceiling, friendly staff, and a great selection of local and imported beers, makes Pinta locals fave pub.
… FOR WINE
Wine Bar Bornstein: This lovely wine bar open in 2015, as an extension of already established wine shop Bornstein that open 30 years ago. The bar is located in a 200-year-old vaulted brick cellar, not far from Zagreb Cathedral. Over 100 wine labels from Croatia and the world available by glass, convivial atmosphere, convenient location, friendly knowledgable staff, and a selection of snacks make wine bar Bornstein wine lovers favorite spot in Zagreb.
Bastion No. 19: A cozy wine bar in Masakrykova Street, Bastion No. 19 offers a great choice of less known and modern Croatian and international wine by glass. This is a great place to taste speciality wines, but also craft beer and whiskey. The offer changes regularly. Expect to pay 20 kn to 40 kn per glass.
… FOR COFFEE
Velvet: We love Velvet! It's a wonderfully decorated café, with great vibe, lovely street terrace, and an excellent choice of coffee, tea, cakes, and fresh juices.
Quahwa: Located in Teslina Street, Quahwa is a specialty coffee shop with a relaxed vibe, friendly staff, and nice oitdoor terrace. The cafe is smoking-free (rare in Croatia), and besides a great selection of coffee, they also serve a good selection of teas, including macha tea.
U Dvoristu: Another local hot spot when it comes to coffee, cafe bar U Dvoristu (literal translation In the courtyard) is hidden away in one of many Zagreb courtyards. This place is cozy and warm, making you feel at home, in your own living room. Here you can taste real Ethiopian coffee, but it's also an occasional place to buy fresh, organic produce, as they organize a green market from time to time.
Eliscaffe: Run by Croatia's famed barman, Nik Orosi, Eliscaffe goes under the motto "no logo, just taste". This is a great place for true coffee lovers, ones that can make that subtle difference between different roasts of quality coffee. You'll find here coffee from all over the world.
EVENTS IN ZAGREB
Advent: Advent in Zagreb is super fun, and in 2015 Zagreb was voted the best Christmas destination in Europe. Activities start at the beginning of December with St. Nicolas Day, and end at the beginning of January with Epiphany. Festivities take place all over downtown Zagreb with Christmas markets, music, good vibe, and great street food.
Summer at Stross: A series of events, named Summer at Stross, take place in the Upper Town, from the end of May through beginning of September. Events include concerts, creative workshops, street performances, and other fun events.
The Courtyards: An unique event taking place for a week in mid-July, the Courtyards are filled with live music, good vibe, food, and fun people. The venue for these events are various courtyards in the Upper Town, otherwise closed to public. The idea is to discover unique and different Zagreb.
C'est is d'best: The oldest street festival in Croatia, C'est is d'best takes place in streets of downtown Zagreb at the beginning of June. Jugglers, musicians, acrobats, clowns, magicians, and also a myriad of other street performers bring a breath of joy to all passersby.
INmusic festival: Held annually in late June, INmusic festival is the biggest open-air festival in Croatia. Three days of great music and friendly crowd gather on the Youth Island at the Lake Jarun.
TRANSPORT IN ZAGREB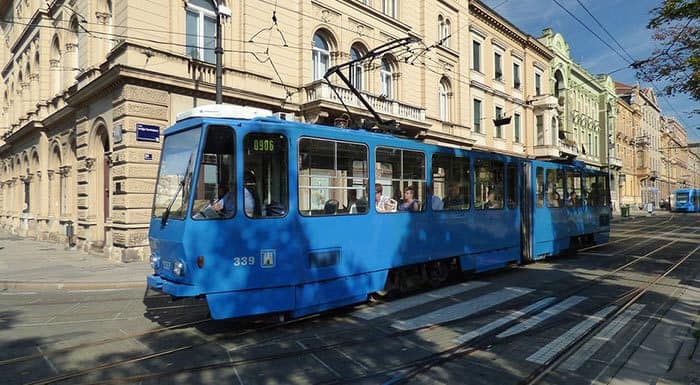 Zagreb Travel Blog: Things To Do In Zagreb|Transport in Zagreb |Photo credit: ArvidO
Best explored on foot, Zagreb also offers a good tram network, intercity buses that connect surrounding neighborhoods, towns, and villages, cheap taxis, and bicycle rentals.
Tram ticket for a single ride costs 10 Kn, 7 Kn and 4 Kn for 90 min, 60 min, and 30 min validity; but you can also purchase a daily ticket for 30 Kn or a three-day ticket for 70 Kn.
Taxis in Zagreb today are relatively cheap and operated by different companies: Radio Taxi Zagreb, Cammeo Taxi, UberX, Eco Taxi. Expect to pay around 4-10 Kn for the start, every consecutive km costs 3-6 Kn, and every minute of waiting time you will pay around 1 Kn. The minimum spent is 12 Kn. Radio Taxi Zagreb is the most expensive taxi company in Zagreb.
NextBike is a company, or a network, of city bikes available at 17 locations in downtown. You need to register with the company (via their application) and you choose one of three models: pay as you go (5 Kn per 30 min), 7-day prepaid rides (100 Kn for unlimited number of 30-minute rides for a week), and yearly prescription, where for 200 Kn you get unlimited number of 30-minute rides. Both prepaid models give you an option to use bikes as much as you want; first half an hour is always free of charge, while each consecutive 30-minute you pay 5 Kn per hour.
CAR RENTAL IN ZAGREB
Many visitors to Croatia arrive first to Zagreb because Zagreb Airport is the main international airport in Croatia, and it receives flights all year round.
At Zagreb airport, you will find over 20 car rental companies. Their counters are at the passenger terminal, just outside the baggage claim zone.
However, we highly recommend that you book your car rental in Zagreb in advance (the sooner the better). By doing so, you will secure a better price of your car hire in Zagreb, but also you'll make sure to actually have a car. As demand in summer goes up, the cars rent fast.
We always recommend to use Rentalcars.com when booking your car rental in Zagreb, and in Croatia.
We've written a full post on car rental Zagreb if you would like to read more.
ZAGREB AIRPORT TRANSFERS
For those of you who arrive in Zagreb by plane, information on transfers from the airport to the town can be valuable.
The cheapest way to reach downtown from the airport is by Zagreb public buses that run between Kvaternik Square and Velika Gorica with a scheduled stop at the Airport Zagreb. Travel time is around 40 minutes, and the bus runs from 4.30 am to midnight, every 25-35 minutes. A one-way ticket costs 10 Kn if bought at the kiosk, but 15 Kn if bought on the bus. You can find timetable here.
A shuttle bus runs between Zagreb airport and Zagreb's central bus station. The shuttle always follows the flights' timetable. They run from 4 am to 10.30 pm, the majority of the time (but not always) every half an hour. You can check the full timetable following this link. The one-way ticket costs 30 Kn (approx. 4 €). If you are in transit in Zagreb and have just a couple of hours to visit the town, return daily ticket costs 40 Kn (approx. 5.5 €).
You can take a taxi from the airport to the town. However, only certain taxis are allowed to station at the airport, and they normally charge more for the ride than if you book a transfer ahead, and have your driver wait for you.
Expect to pay for a taxi ride from the airport to Zagreb central bus station with an official taxi around 110 Kn (approx. 15 €) while with others you can travel for as cheap as 50 Kn.
Official taxi charges 10 Kn a start, and an additional 6 Kn per kilometer, while Cammeo, for example, charges 5 Kn for a start, and 3 Kn per kilometer.
You can book your transfer in advance using Rideways website.
RECOMMENDED TRAVEL GUIDES
ZAGREB TRAVEL BLOG
If you are planning to travel to Croatia, you can also check our post on top things to do in Croatia.
What other things to do in Zagreb would you suggest to add to our list? As always, if you have any comments, questions, or suggestions, please leave them in the comments below.